Thursday, 14 January 2016 - 4:15pm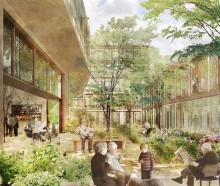 Southwark Council planning has granted United St Saviour's Charity the go-ahead to meet its ambition to help more older people in Southwark by obtaining unanimous planning permission to build a stunning new almshouse in Bermondsey.  This will be the first almshouse to be built in Southwark for decades and will help meet the shortage of social housing specifically designed for older people.  It will provide genuinely low cost extra-care sheltered homes for around 90 Southwark residents, enabling them to grow older and to stay part of their community, but also to remain independent, even those with care needs or age-related disabilities.
Located at 94-116 Southwark Park Road, the almshouse has 57 one and two bedroom flats surrounding a central courtyard, and includes a community lounge and café, cookery space, a spa and beauty room and other social spaces.  United St Saviour's Charity wants it to be part of the neighbourhood, not a retreat from it, and will welcome local residents to use its facilities once open.
The almshouse will be delivered by Delancey as part of the obligation to build affordable housing in connection with the development at 185 Park Street.
Carvil assisted United St Saviour's Charity in its discussions with Southwark Council, by working with USSC and Delancey during negotiations with Southwark Council to acquire the site and to deliver a truly innovative affordable housing solution.  Carvil has also provided public affairs and stakeholder engagement services to USSC.