Wednesday, 13 April 2016 - 6:45pm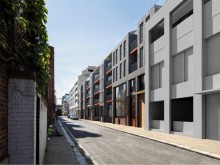 Southwark's planning committee has unanimously approved plans by Taylor Wimpey Central London to build 47 new homes on the site of a small industrial estate on Rushworth Street.
Taylor Wimpey Central London plans to demolish Friars Court, a small complex of light industrial units on the west side of Rushworth Street, and build 47 new homes.
The scheme will also include commercial space at basement, ground level and first floor levels.  The six-storey development will include 12 affordable homes, of which eight will be at social rent.
Carvil Ventures provided Taylor Wimpey with public affairs and stakeholder engagement services including the arranging of two public exhibitions, stakeholder consultation meetings and facilitating discussions with Southwark Council on the acquisition by the Council of the affordable housing units.