Tuesday, 15 September 2015 - 5:15pm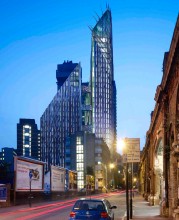 Southwark's planning committee have given Bilford the green light to turn its proposed 31-storey tower - first approved as student accommodation in 2011 - into residential accommodation with 119 flats for sale following the unanimous approval of its revised scheme.
The tower, to be built on the site of Capital House was to accommodate 470 students, with priority given to those studying at King's College London whose Guy's campus is adjacent.  SPPARC's Architecture's design for the 31-storey tower was said to be an allusion to Southwark's literary heritage and was externally unchanged in the new scheme.  Whilst there will be no on-site affordable housing on site the Bilford will instead help to fund a scheme by the Family Mosaic housing association to develop affordable homes in Elephant & Castle providing an overall affordable housing offer of 28%.
Carvil assisted Bilford in its discussions with Southwark Council in terms of both the new affordable housing offer and land use changes as well as leading the public affairs and stakeholder engagement programme.