Wednesday, 13 April 2016 - 7:00pm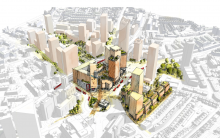 Delancey will target residential investment opportunities of more than 1,000 homes in the UK in its new partnership with Qatar Diar and Dutch pension fund manager APG. The trio have created a £1.4bn residential investment partnership through the merger of the entities owning their Stratford, E20, and Elephant & Castle, SE1, schemes in London.  Jamie Ritblat, Chief executive of Delancey, said the partners would be looking for schemes similar in scale to the Olympic and Elephant & Castle sites and "not restricted to London". "We have been focused on London, but we will cast out net wider if we find the right opportunities and the right scale". 
Carvil Ventures is advising on the redevelopment of the Elephant & Castle Shopping Centre and London College of Communications sites to provide a new town centre for Elephant & Castle with a planning application expected to be submitted in 2016.