Wednesday, 13 July 2016 - 2:30pm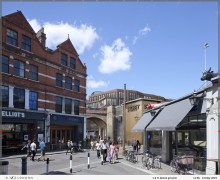 Meyer Bergman has been granted planning permission for a 197,786 sq. ft (18,375 sq m) mixed-use redevelopment of the former wine-tasting venue Vinopolis in Bankside, London Borough of Southwark, SE1. The development site spans the railway arches bounded by Thames House, Stoney Street, Clink Street and Park Street, and the land between the railway viaduct and Wine Wharf. The consented scheme includes offices, retail and restaurant units, along with a cinema and gallery space. Southwark Borough Council's Planning Committee granted planning permission last night, 12th July 2016.  The redevelopment will see 111,610 sq. ft (10,369 sq m) of retail space and 11,334 sq. ft (1,053 sq m) of leisure provision in the railway arches and the former Vinopolis building, as well as a new office building of 62,010 sq. ft (5,761 sq m) at Thames House. In addition, a network of new pedestrian routes including covered walkways, will run along the railway viaducts at the north-south route, linking the commercial and retail buildings. High quality public realm and on-site servicing will minimise the impact on the road network. The scheme will include 12,830 sq. ft (1,192 sq m) of on-site storage and plant work and community cycle parking.
Carvil provided public affairs and stakeholder engagement services and arranged over 15 meetings with key local stakeholders as well as attending a series of public meetings and arranging a two-day public exhibition. 
The redevelopment of Vinopolis and Thames House enhances the exciting regeneration of London Bridge and Bankside with its landmark destinations such as Tate Modern, Borough Market and the Shard. The scheme intends to provide an attractive mix of retail & leisure that aims to complement neighbouring foodie destination Borough Market. Extensive work and consultation has been undertaken with Southwark Council, residents and key local stakeholders, including Network Rail.
Trevor Morriss, Principal at SPPARC Architecture commented:
"We are thrilled that Southwark Council has granted planning consent for what will be a superb addition to Bankside. The reinvention of the site to provide retail, leisure and office uses around a new network of pedestrian lanes will add a vibrant new dimension to this unique part of London. We've worked extensively with local stakeholders as well as Southwark Council to ensure that the proposals attracted strong support, and we are delighted that has been reflected in the unanimous planning decision. We look forward to the next steps for the redevelopment and to see this exciting project come to life."