Wednesday, 15 July 2015 - 9:00am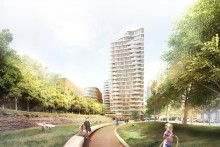 Delancey's plans to develop the former National Grid offices at 185 Park Street were unanimously backed by members of Southwark's planning committee on 14th July 2015.
The redevelopment includes buildings of 10, 15 and 19 storeys designed by Squire & Partners – including a basement cultural space likely to be used by Shakespeare's Globe for rehearsals and education work as well as the creation of high quality public realm and new public access across the site.
As part of the approval Delancey has negotiated an affordable package including £23.5 million of in-kind support for plans by United St Saviour's Charity to build an almshouse for 21st Century at 94-116 Southwark Park Road plus a further £6.5 million will be paid to Southwark Council's fund to develop new council homes around the borough.
Carvil assisted Delancey providing public affairs and stakeholder engagement services including assistance in identifying United St Saviour's Charity & Shakespeare's Globe as key affordable housing and cultural use partners.